Autonomous robotic vehicles can lead to increased efficiency and precision in the production and manufacturing industry. One of their main purposes is to ensure maximum productivity in fleet management and transportation, while relieving workers from strenuous and dangerous tasks. Most of these robots are deployed in production lines and are programmed to repeat a specific task at a time, such as transporting goods between predefined locations. These autonomous robotic vehicles can reach high speed and accuracy, while the workers' safety is assured.  
At NEURA Robotics, we have developed collaborative, autonomous robotic vehicles that can work with humans in shared environments. Our robots have human-like consciousness and work safely and efficiently. To enable true human-machine collaboration, autonomous robotic vehicles need senses to perceive their environment and cognitive intelligence to safely interact with humans in different environments. Based on this, MAV – the Multi-Sensing Autonomous Vehicle, was developed.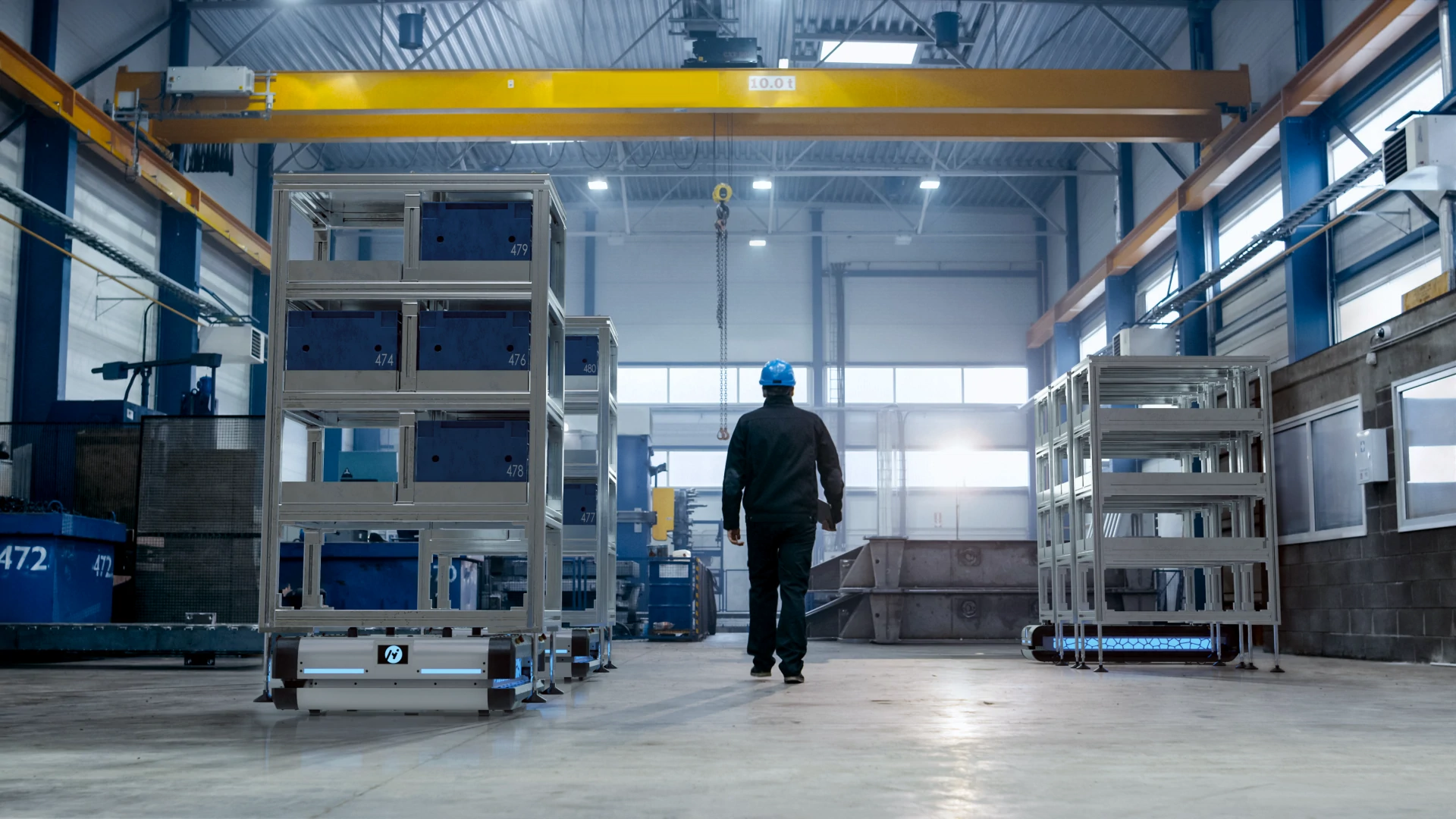 Leading into the era of safe human robot collaboration
MAV, the first collaborative autonomous vehicle, features advanced sensors designed for intralogistics tasks and safe collaboration with humans and robots. Its ability to perceive its surroundings through advanced sensors allows MAV to interact safely with humans, making it a particularly valuable work colleague.  
As a robotic assistant, MAV has the ability to streamline production, enabling humans to focus on the tasks they enjoy while making their jobs easier. In the manufacturing industry, tasks are varied and often hectic, requiring a lot of energy and manpower. MAV offers an alternative that aims primarily to reduce stress and help people manage the fleet and transport goods.  
The robot can easily work on new applications where it interacts directly with humans in collaborative workspaces or can cooperate with other robots such as LARA and MAiRA. This opens up the possibility of taking on hazardous and repetitive tasks in a variety of fields and industries.  
MAV can be used in logistics, such as distributing goods. This means that the robot can be used anywhere, even to transport luggage, such as in airports and hotels. Its ability to be autonomous offers a great opportunity to work wherever goods and other things need to be transported. 
Key technologies and benefits of MAV
MAV provides comprehensive environmental perception capabilities enabled by advanced augmented intelligence. It leverages integrated sensors such as 3D vision sensors and an integrated PC-based GUI for human and objects identification and mapping. This facilitates accurate motion planning when human presence is detected. 
The integrated AI enables MAV to think, make decisions, and learn from its experiences. In work environments, these improvements allow for successful path optimization and intuitive, safe, and smart interaction with people. The fleet collects data for future workflow optimization. 
NEURA Robotics has developed a novel sensor technology called "Touchless Safe Human Detection" that combines the best of existing sensor technologies to create a sensor that reliably detects humans and always ensures the safe operation of MAV. An instant alert system that reports a change in the environment ensures true human-machine collaboration. 
Intuitive interaction between humans and robots is possible since MAV responds to voice commands, recognizes people, and can be guided by gesture control. MAV's 3D recognition software also allows for easy human identification and tracking. Universal and natural hand gesture control can be used to easily give commands. 
MAV is autonomous – meaning it can navigate autonomously without the need for additional peripherals. This makes MAV perfect for full integration into intelligent fleet management systems. 
MAV is multi-sensing – it can perceive its environment. Thanks to the human-robot-interaction programming feature, MAV has visual, audio, and force feedback.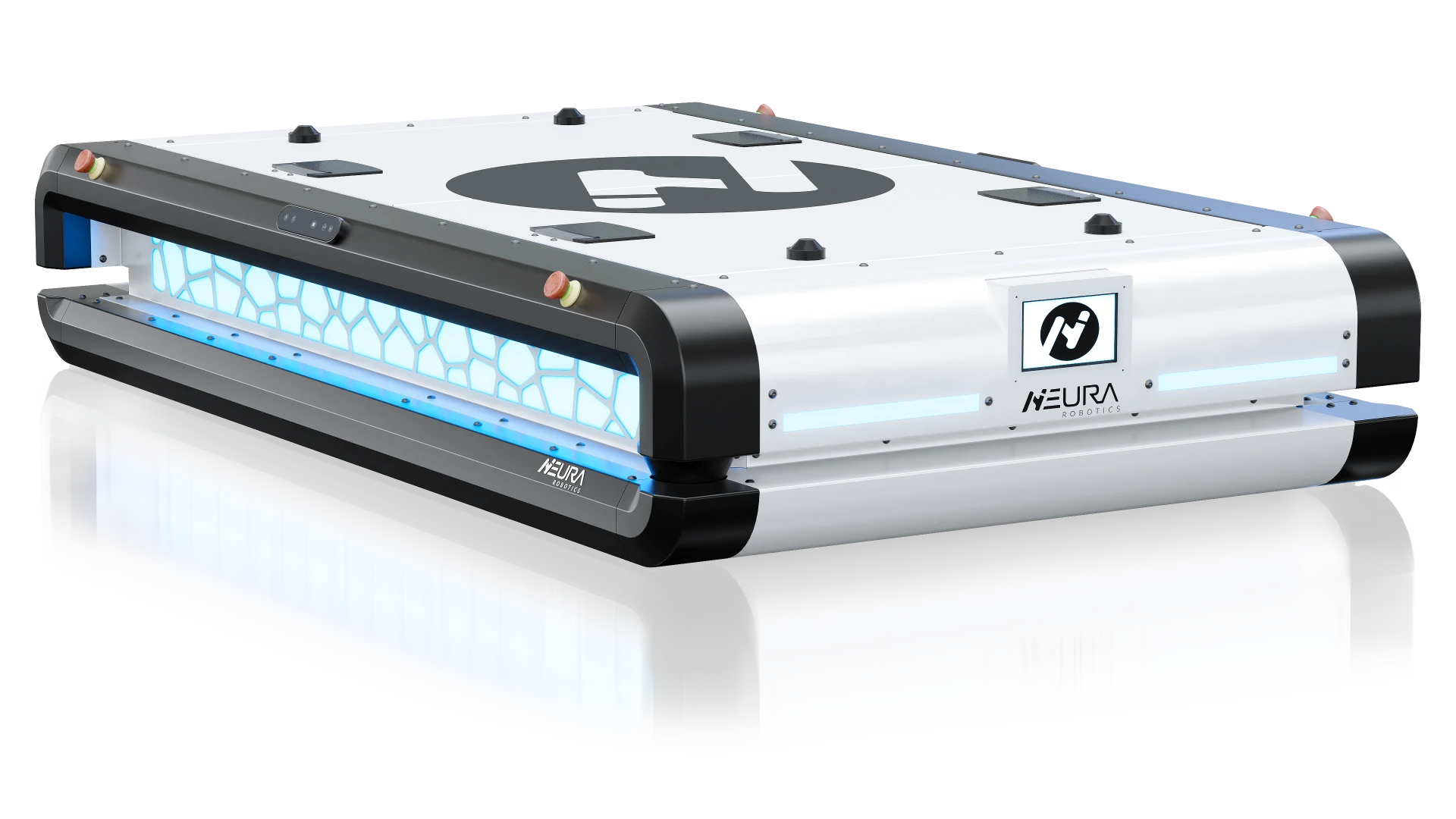 Design features
and spec
ifications
The design features a rectangular, smooth flat surface with round edges and a weight of 400 kg. MAV achieves an exceptional speed of 1.5 m/s with a positioning accuracy of ±5 mm. It is designed for the transportation of bigger goods than conventional AGVs can handle. With a payload of up to 1.5 tons, MAV will revolutionize the automotive industry and many other heavy-duty industries. 
MAV is extremely strong and can carry payloads of up to 1500 kg with a loading current of approximately 60 A. The robot is equipped with LED lights that indicate the status of the robot. This enables the user to quickly detect changes. 
MAV is enduring – With an inductive charging time of 2 hours and an operating time of 10 hours, MAV provides a great endurance level. Its life cycle service interval is 12 months, which allows for long operation without you having to worry about any form of maintenance. Thanks to IP 54 protection, the robot is dust and splash resistant, enabling MAV to work safely even in harsh conditions.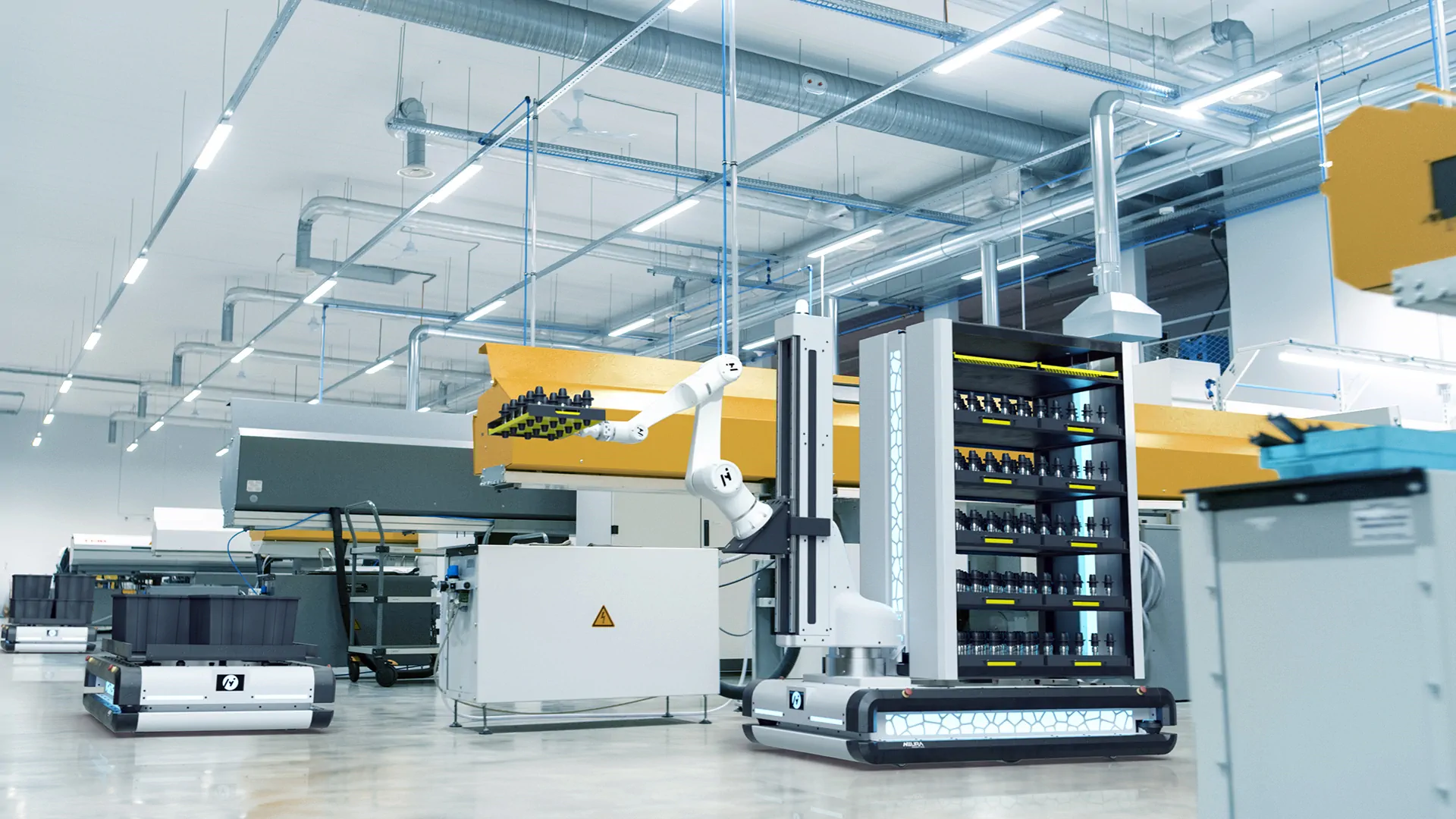 The future of intralogistics with MAV
As the first truly collaborative AMR, MAV is specifically designed to transport bigger goods than conventional AMRs can handle. For more agile and lighter tasks, the new MAV Junior complements the portfolio. Both models can be used for various applications in a wide range of industries such as life sciences and manufacturing. Which version is the perfect solution depends on the specific application. 
MAV can be easily combined with LARA to perform any imaginable application, such as charging cars.

 

By leveraging MAiRA's cognitive capabilities, MAV and MAiRA can be used to increase productivity, boosting production and opening up opportunities to more industries and applications.

 

With its unique capabilities and outstanding ability to collaborate, MAV is opening a new era of human-machine interaction and serving humanity.

 
With its unique capabilities and outstanding ability to collaborate, MAV opens a new era of human-machine interaction and serves humanity. 
Curious in learning more?
Download our whitepaper about cognitive robots HERE.