Dedication and passion to amplify humanity through cognitive and collaborative robots
NEURA Robotics is a German high-tech company founded in Metzingen in 2019 with the vision to revolutionize the world of robotics and support humans with a wide range of tasks. The goal is to pave the way into the cognitive age by building intelligent robotic assistants and to make ground-breaking advances in a variety of fields.
At NEURA Robotics, we know that time is an essential part of life: time to rest, time to spend with friends and loved ones, and time for things we enjoy doing. NEURA Robotics believes that people should be able to do what is at the core of human nature. This allows people to express their creativity and refocus on social interactions instead of doing the unhealthy and monotonous work that is still prevalent in society.
We are a diverse team with members from over twenty-five countries united in the mission to serve humanity. At the same time, we are a young and dynamic team that pushes boundaries. Together, we are stronger and believe we can make breakthrough advances in the technology and robotics industry.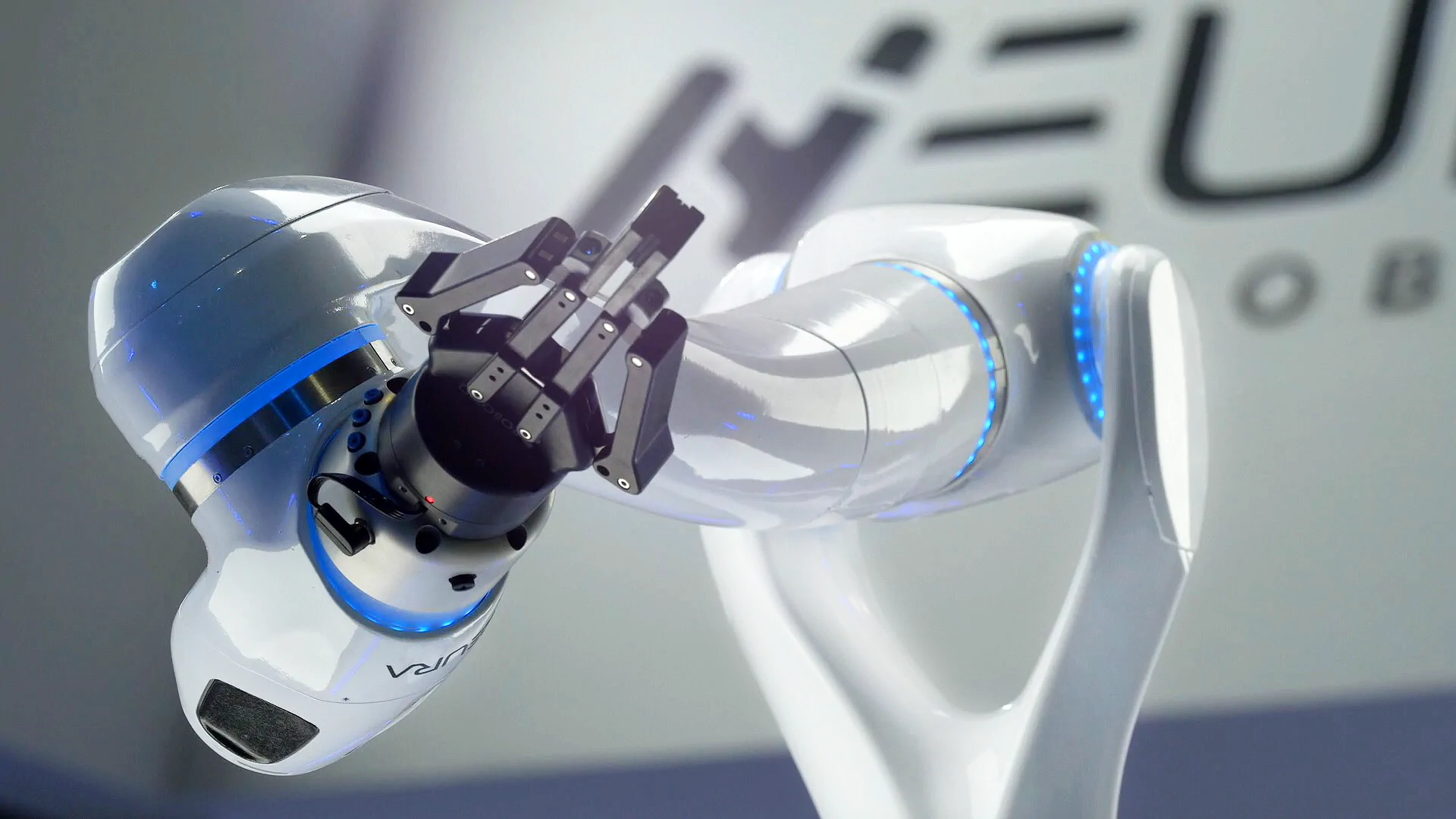 Technologies for everyone
Expanding the cognitive capabilities of robots and achieving breakthrough technological advances are at the primary focus. Advances in various fields are uniting in the goal of bringing robots and humans closer together in shared work environments, with the highest priority on creating a safe space for both sides.
To ensure safety at all times, the company's in-house technology "touchless safe human detection" has been developed. Touchless safe human detection is a breakthrough development and unique technology that enables the safe detection of humans within the robot's perimeter and prevents collisions by ensuring that the human is not touched by the robot at any time. This is done by reducing the speed based on the given distance and calculating alternative paths around the human. The data provided is processed by artificial intelligence, which directly adjusts the action.
Force-torque sensors on the TCP and in all axes allow the robot to feel, providing the ability to limit forces. This allows the work to be performed with high precision and minimizes the risk of injury. This precision is reflected in the absolute and repeat accuracy that makes our robots the most accurate on the market, thanks to sensor technology developed in-house. In addition, the gears and motors are designed to achieve speeds far beyond those of the competition, despite high payloads.
At NEURA Robotics, the user experience is at the core of all software and hardware to make operation and interaction with the robots convenient for everyone. The tablet-based graphical user interface, which visualizes the robots in a three-dimensional space, allows users to move all robot joints with a simple click and create applications with an intuitive drag-and-drop system. A special feature of the user experience is the control of the robots by voice. Voice commands can be used to move the robots to specific points, grab objects, or put them into zero-G mode and move them freely. The programming itself is an intuitive and natural experience. Here, the user can choose between teaching the robots, recording trajectories, training through gestures and speech, or programming. All programming can be done with the teach pendant, allowing anyone to easily operate our robots.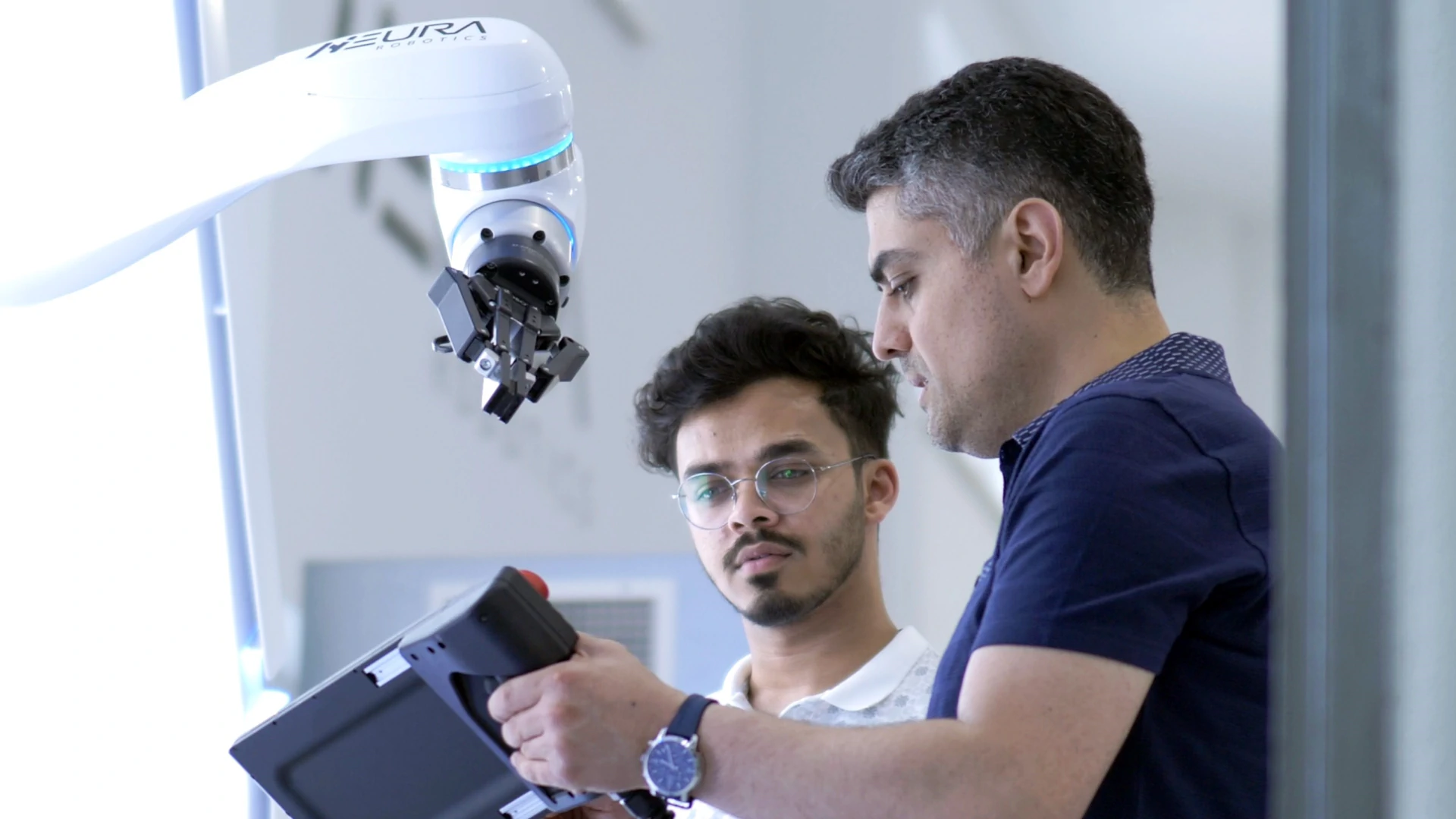 State-of-the-art robots
In less than three years, NEURA Robotics has developed a product line that includes:
– MAiRA: Multi-Sensing Intelligent Robotic Assistant.
– MAV: Multi-Sensing Autonomous Vehicle
– LARA: Lightweight Agile Robotic Assistant
– MiPA: My Intelligent Personal Assistant
– LiWA: Lightweight Robotic Arm
– The Ai Scan Hub
You can find more details about our products and their special features on the homepage.
Our products and their innovative approach have received awards from various institutions. Awards include Top 100, European Design Award, German Innovation Award, Golden Pin Design Award, Industrial Handling Award, Red Dot Design Award, UX Design Award, German Design Award and many more.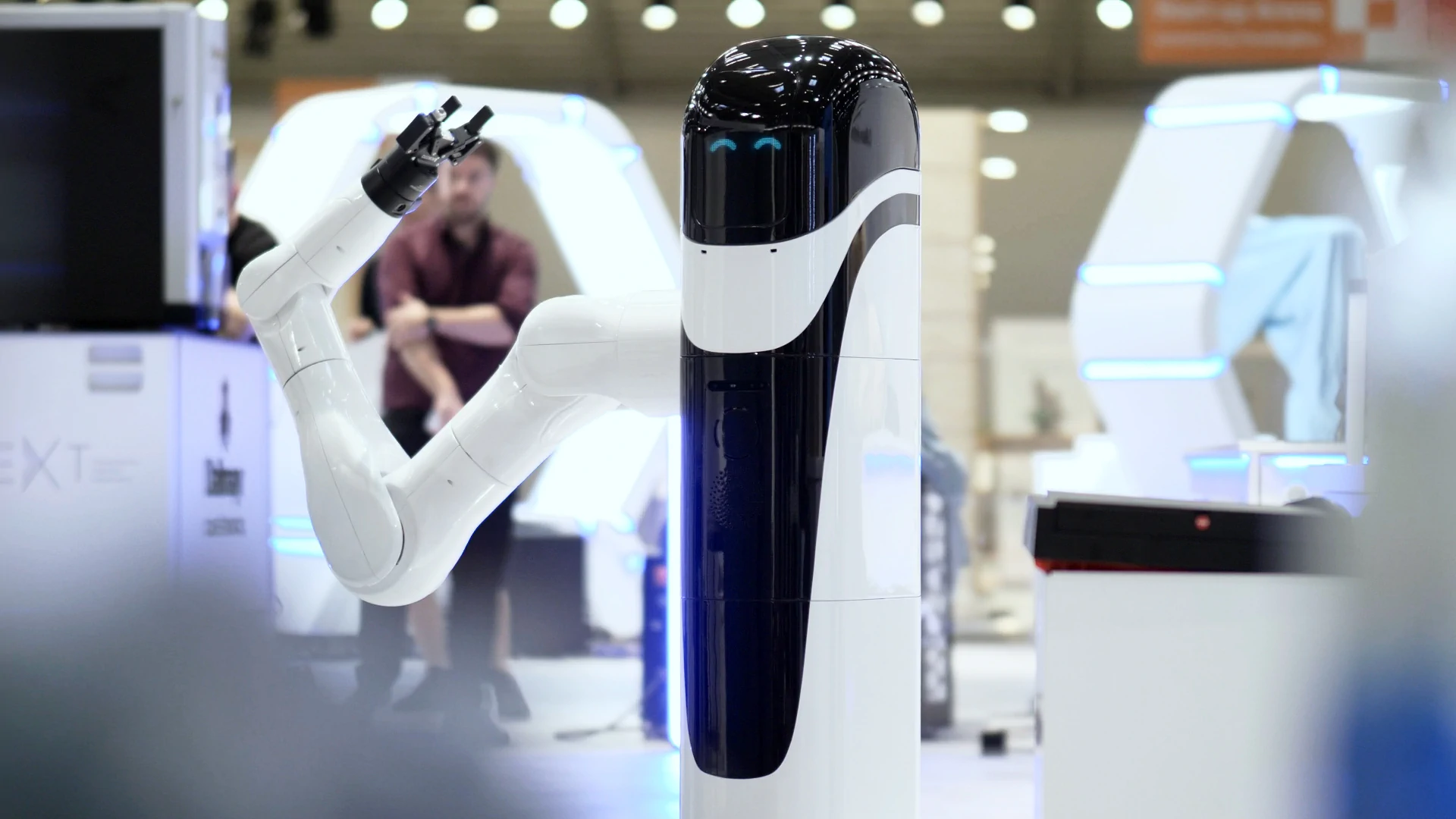 Neuraverse – The ecosystem to advance humanity
Neuraverse is our global partner program that lays the foundation for a robust, forward-thinking, and diverse community of partners who effectively contribute to leverage the enormous market potential of intelligent automation. This community is supported not only by NEURA providing our state-of-the-art robots and versatile technology resources, but also through ground-breaking software and enablement and support services designed to foster advanced solutions in a variety of fields around the world. In addition, NEURA Robotics is committed to actively supporting its partners in networking, co-creating, and collaboration so that the community becomes a vibrant global force in the field of "intelligent automation." The Neuraverse partner program aims to create a platform to jointly realize diverse solutions for intelligent automation to serve people in business and personal life. With Neuraverse, we aim to create a unique global ecosystem where ambitious and capable partners such as industry champions, system integrators, special machinery providers, distributors, consultants and many more come together to bring cognitive robots and intelligent automation to all areas of life.